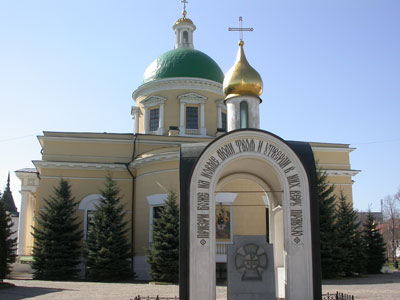 Of all Christian confessions, only Orthodoxy and Catholicism honor both crosses and icons simultaneously. The cross carries with it a tremendous charge of spiritual energy – it is a symbol of faith, salvation, and atonement. This is why the cross pendant worn by every Christian is more than just a symbol – it is viewed as a link between man and God.
Orthodoxy does not impose strict requirements on the design of the cross, because it honors the actual cross and not any particular style of craftsmanship. What does matter, however, is that at least one of the cross's lines be divided exactly in half. So, when studying the manufacturing of crosses, one should not look for stylistic differences, but rather pay attention to artistic idiosyncrasies inspired by the traditions of any given Orthodox country.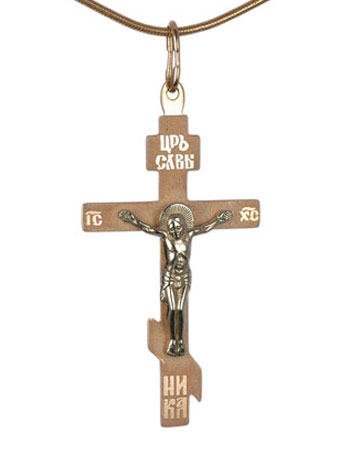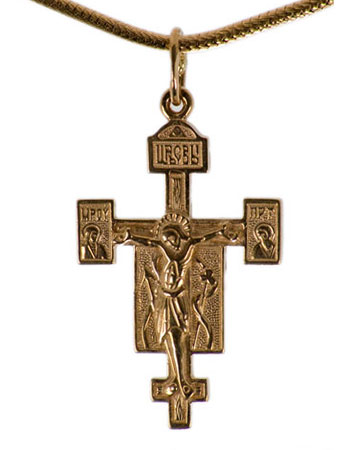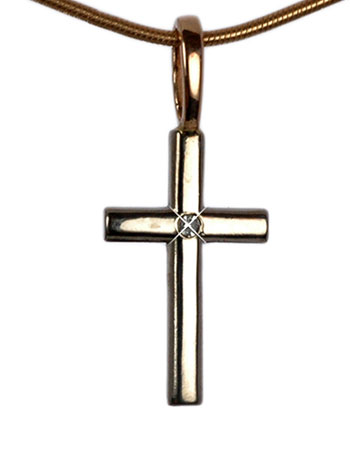 Pic. 1 depicts an eight-pointed cross that is most frequently encountered in Russian and Serbian Orthodox churches, Pic. 2 shows a Byzantine cross, and Pic. 3 presents a Greek cross (online video). The Orthodox Church concerns itself not with the decorative aspect of the cross, but rather with the image of Jesus Christ appearing on it.


Orthodox body icons and crosses bearing images of Christ or of various saints portray that image which is celebrated by the believers. Jesus Christ is shown everywhere as the omnipotent God. Yes, Christ suffered and died on the cross. But then He resurrected. And we know that He suffered not out of powerlessness, but, voluntarily, out of love for humanity, in order to teach us protection of the eternal soul and love and forgiveness for one another. This Easter joy is ever present in the Orthodox Crucifixion. This is why Christ does not die on the Orthodox cross, but openly spreads out his arms as if to embrace the entire humankind.

A fundamental difference between Orthodox and Catholic Crucifixions is the number of nails used to nail the Son of God to the cross. The Orthodox Christians believe that the feet of Christ were nailed to the cross with two separate nails, one in each foot, and therefore, the Orthodox Canons dictate that Christ's feet be separated on the cross. In contrast, on Catholic crosses, Christ's feet appear one atop the other, held in place with a single nail.