European Silver Tableware
World-Class Silver Tableware in the USA and Canada
When beauty meets quality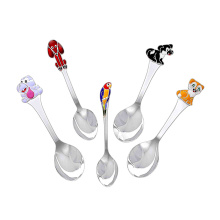 Enamel silver spoons for a baby shower.
View details
Hypoallergenic Sterling Silver Baby Spoons and Cups
Golden Flamingo Group is the exclusive dealer in the United States and Canada to represent exquisite traditional European silver silverware manufactured by Juveel OU located in the beautiful and romantic medieval city of Tallinn, capital of the Baltic country of Estonia. We are greatly honored to introduce you to this reputable manufacturer.
SILVER CHILDREN'S SPOONS. A truly unforgettable luxury silver gifts for a baby shower. Line of 'Teething' silver spoons for babies and spoons for children with the handles decorated with the characters from popular cartoons is truly unique. No other silver cutlery manufacturer produces anything of such kind. These baby silver spoons are all fully handmade and elaborately decorated with multicolored enamels or delicately engraved. Such spoons with colorful images will delight your baby and will become your child's favorites for many years to come. You may choose a spoon with the handle decorated with a funny hippo, a cheerful parrot, a mischievous cat, a rabbit, a dog or a chicken. Golden Flamingo offers over 20 different but invariably comfortable and ergonomic brightly decorated spoons. They are designed especially for babies and kids and are always very convenient and easy to hold. These spoons are hand-polished to achieve an impeccably smooth finish and shine. The back of some handles is decorated with clock where the time of the baby's birth may be engraved on the dial and the weight and height of the baby at birth may be engraved on the weights. Each silver spoon from this collection is without exaggeration a miniature masterpiece and makes a perfect gift both for the new parents, for their new babies, and for the kids. All baby silver spoons are made of 925 silver and coated with pure 999 silver to give the product a glossy shine and to protect it against tarnishing. But the most important point is that pure silver is a powerful antiseptic that helps prevent diseases by protecting from infections and boosting an immune system. Pure silver will cools the inflamed gums and disinfect them at the same time. Due to this effect these baby silver spoons will serve to ease the pain and irritation that comes with teething, will prevent the baby from crying in this difficult period, and give the young parents more time to get some sleep.
SILVER CHILDREN'S CUPS. Baby silver cups go very well together with silver spoons for kids. There are two types of these playfully beautiful and ergonomic cups in the collection. They come with different types of elegant embossing: especially designed for the young ladies, and for the young gentlemen. These tankards are made of sterling silver and just like the spoons in our collection, they are coated inside and outside with chemically pure 999 proof silver. This makes these products stand out among other competing manufacturers, aside from all other manufacturers and that's the reason why such cups give water healing properties. Due to high thermal conductivity these cups make cold drinks taste so much better. The silver cups are big enough (180ml quite) to use as the kid grows. Water kept in such tankards will always serve as the source of healing and rejuvenating silver ions known for their anti-bacterial properties. Such beautiful and practical gift will definitely become a real favorite and is guaranteed to keep fond memories for a lifetime of more than one generation.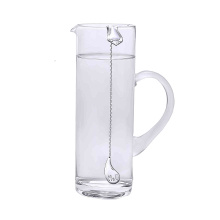 Antibacterial silver drinking water sterilizer in jug.
View details
Antibacterial Silver Drinking Water Sterilizers
Potable water, especially in the countryside may contain a variety of harmful microorganisms including pathogenic bacteria. Christian and Buddhist monasteries protected their water using silver pipes and silver utensils. This was their way to make sure they never run out of the 'Holy' or 'Healing' water. Such naturally disinfected water was frequently saving lives as silver destroys pathogens that cause disease and epidemics. Silver eliminates the need to treat water with carcinogens like chlorine or bromine for disinfection. Wouldn't it be nice to have a source of such healing water with silver ions right in our homes? European manufacturer Juveel makes this dream come true. It offers elegant and practical water sterilizers that bring the healing power of silver right to your home. All you have to do is leave your sterilizer in water overnight and silver ions will do the job for you by purifying the water and cleansing it of a wide variety of pathogens.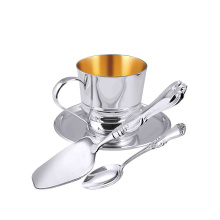 European modern silver tea set from our Serveware Collection.
View details
Silver Flatware, Holloware and Serveware from Northern Europe
Silver tableware is truly spellbinding and it usually speaks volumes of the social status and wealth of the owners. Silver holloware and serveware from Europe was true 2000 years ago, it is true now and it will always be this way. One glance at the table with silver forks and knives for meat and fish, silver spoons for coffee and tea ceremonies, spoons for desserts and soups, silver salt cellars, silver shot glasses for whisky, tequila, vodka and cognac, silver champagne flutes and wine goblets with gold plating and hand-engraving, silver serving spoons and sporks for salads and sauces with long handles made of silver, elegant silver cake knives and spatula for pastry, silver cups and saucers, silver sugar bowl and silver creamer with silver serving tray, silver candlesticks that create an atmosphere of coziness and romance are the kinds of things that make you realize that there are some timeless things in this world.
SILVER TABLEWARE IN NEW YORK AND TORONTO. You may buy these luxurious items in North America in the stores of the Golden Flamingo jewelry company - the exclusive importer that brings you a complete line of silver tableware from the Juveel. This manufacturer is a reputable supplier of excellent quality silver flatware and silver holloware to the international market since 1923 and it brings together state-of-the-art technology and talented artists and jewelers knowledgeable of the ancient secrets of craftsmanship. This combination helps produce real masterpieces. Scandinavian traditions and experience of silversmiths go far beyond blacksmithing, chasing, embossing, relief work, engraving, and decorating with enamels. Each product is a real work of art that comes from the heart and soul of a master jeweler.
SILVER SOUVENIR SPOONS WITH SIGNS OF THE ZODIAC. Silver souvenir spoons with hand-engraved signs of the zodiac on the handles are in a class of their own and stand out among of the collections of coffee and tea silver spoons due to the significance generally attributed to the signs of the zodiac. Engraving by hand is a very daunting task. A master engraver should have a very steady hand and an extensive experience. To make each and every stroke of an engraving really stand out the European jewelers use oxidizing silver technique. Antique-style darkened silver adds contrast with the bright silver that houses the engraved sign of the zodiac. The combination of silver and astrological symbols creates a zone of intense bioenergy. As your zodiac sign is in fact the part of the stellar sphere where Sun was located at the moment of your birth, the metaphysical fluids from the outer space will definitely concentrate on the handle of the spoon with your zodiac sign (because in this case the spoon works as a receiving antenna). Such concentration of energy will bring the owner good luck, happiness and health. Any zodiac gift is always welcome, very meaningful, and of much importance for the owner as it helps concentrate the positive astral energy on his aura. This is certainly a unique and memorable birthday gift for adults as well as for children.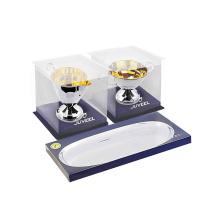 European boutique-quality gift packaging for silver tableware.
Anti-Tarnish Packaging for Silver Tableware
A uniquely beautiful anti-tarnish packaging specifically designed and manufactured in Finland for the silver items will further enhance your experience of buying silverware from the Golden Flamingo jewelry stores in New York and Toronto. This boutique-quality packaging is a gift to you from the Golden Flamingo jewelry brand.