Carl Faberge: Women, Espionage and Other Recondite Facts of His Life
Carl Faberge - Jeweler to the Czars
Le grand amour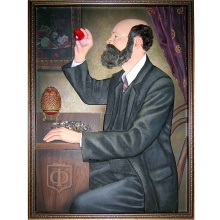 Mechanical portrait of Russian jeweler Carl Faberge at the Golden Flamingo store in Brooklyn, NY
Faberge Principle
Carl Faberge was the founder of the school of jewelry-making based on a very important principle: any item, no matter how cheap, has to be produced with a great taste and serve as a sample of a true workmanship and artistry. The House of Faberge produced a very wide range of items; it didn't work solely for the elite but embraced all kinds of consumers. However, the quality standards used to manufacture soldier's cigarette-boxes were the same as those used to craft unique gifts for the royal families. That's why the following quotation is the best introduction to our digest of little-known facts from the life (1846-1920) of the Great Jeweler.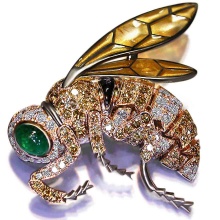 Faberge era-inspired brooch "Gold Flea". 18kt gold, platinum, enamel, diamonds, emerald, demantoids
Jewelry of True Value
So how do you determine the true value of jewelry? When interviewed by newspaper reporters in 1914 Carl Faberge told them with a feeling of well justified superiority:-"If you compare the items manufactured by my company to those of 'Tiffany', 'Boucheron', and 'Cartier', you will most likely find far more precious stones over there. You are likely to find there a ready-made necklace for 1.5MLN gold dollars (close to $65MLN today). But those are the jewelry dealers, not artists. I have little interest in an expensive item as long as the price is determined solely by great numbers of diamonds or pearls".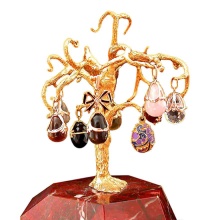 Decorative Statuette "A Gold Tree with Paschal Eggs Pendants". Gold, silver, enamel, gemstones
Easter Egg Creation
Carl Faberge and his brother Agafon Faberge were in the middle of the discussion of the project of still another Easter egg for the royal family the year the heir to the throne was born. Agafon proposed to elaborate on the idea that the heir to the throne had already been appointed chief of the infantry. Carl promptly agreed and added: -"Yes. But we'll have to include dirty diapers in the composition because insofar they are the only proofs of his target practice."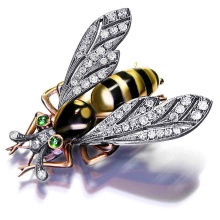 Faberge era-inspired brooch "Gold Bee". 18kt gold, platinum, enamel, diamonds, demantoids
Faberge School of Jewelry
One member of the royal family was very interested in the craft of jewelry making and wanted to learn it. He asked Carl Faberge to make him the list of all the necessary tools and equipment for his studio. The old master trusted to complete the list had a great sense of humor. His list of the instruments that consisted of hammers, chisels, and engraving tools, also included 'a flat belt of sufficient thickness'. When asked about the use of the belt in jewelry, the old man replied:-"Your Highness, this is the first and the most essential tool. So far no student had ever learned the art of jewelry without it".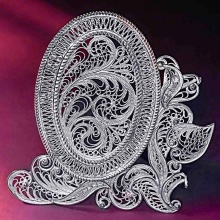 Silver frame for photo. We've never managed to find any photographs of Amalia.
Adulterous Escapades of the Great Jeweler
Nothing Human Was Alien to Him. When 56 years old Carl Faberge, the owner of the famous Russian jewelry manufacturing company, was in Paris in 1902 he desperately fell in love with a 21 year old cabaret singer Joanna Amalia Kribel, a native of Czechia. He was reasonable enough not to divorce his wife Augusta Bogdanovna, a wonderful lady and the mother of their 4 children, but he didn't give up Amalia either. Our hero found a truly artistic solution to his dilemma. He started spending about 3 months in business trips around Europe every year. Mademoiselle Kribel brightened the days while the lone salesman was the road. She was free for the rest of the year. The status quo that suited Carl had in no way suit Amalia. So, in 1912 she unexpectedly married an illiterate 75-year-old Georgian prince Karaman Tsitsianov from the village of Satsibeli, whom she left without any regrets the day after the wedding never to come back. As an important outcome of this quick-paced operation she changed her German surname to another one, less exotic for Russia, she acquired the title of a princess, and, certainly, she also got herself a Russian citizenship.
At the onset of the hostilities in 1914 Madame Tsitsianov was in Germany. At that time she appealed to her famous lover, with whom she never broke up, asking him to help her settle in Russia. That was a rather difficult task. The war brought over a crackdown on individuals with German surnames. Faberge himself was teetering on the edge of deportation to Siberia, and it made him transfer his part of the shares in the company to his trusted employees with Russian names. Asking favors for a former Austrian subject could be risky under such circumstances. But Carl, as a real gentleman, did not flinch and used his connections with the Tsar's (Royal) Court to help his flame move to St. Petersburg. There she moved in the 'European' Hotel alongside with the top brass of the Russian army and senior officers of the allied military missions. The reference attached to her police file states that she attracts attention with her opulent lifestyle and visits abroad. An additional information may be found in the report of the Police Department dated March 24, 1916: At present time she is allegedly cohabiting with the famous industrialist-jeweler Faberge and, despite this, is being constantly visited by other individuals, and such meetings are shrouded by her in a special secrecy... she is apparently engaged in espionage..." On April 26, 1916 Amalia was arrested. As one would expect, she denied everything under interrogations, and in the meantime her lover (who was 70 at that time) started soliciting on her behalf using his connections in the highest echelons of Russian government. (Not that it helped much... and Amalia was exiled to Siberia after all). Here is the report of the chief of counterintelligence department to his supervisor:-"One should also note that Mr. Faberge himself, who was vouching for the loyalty of Tsitsianov during questioning, is not the person whose statements could be taken with due confidence by the military authorities... In any case, the fact of Tsitsianov's cohabitation with Faberge does not speak in favor of her reliability, so none of his statements about Tsitsianov should be taken into account." That was it. Even his direct appeals to the Tsar and the Tsarina did not help. After the deportation of Tsitsianov to Siberia the lovers never met. Several years later she returned to Austria. As for him, he was completely stripped of his possessions by the Soviet security officers and by certain employees of the Swiss Embassy. (He lost overnight approximately $500MLN in today's prices, which doesn't include the value of the real estate owned by him). He had to overcome extreme difficulties in order to get out of Russia with his life. Eventually he got to Switzerland via Latvia and Germany. There he died on September, 1920 with his wife and son Eugene at his side.