Ideally Cut Gemstones
So beautiful it's guaranteed for a lifetime
A shot of adrenaline in every facet. How to achieve an ideal cut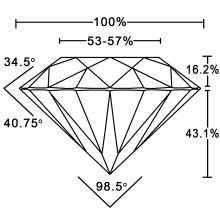 Angles and Proportions for Ideal Cut Round Diamond.
View details
Ideal Cut Diamonds
In 1866 at the bank of Orange River in South Africa a lucky shepherd by the name of Erasmus Jacobson found a yellow 21.25 carat diamond. That find made it into history as the "Eureka" diamond. That discovery marked the beginning of the "diamond rush" that eventually raised Africa to the leading positions in mining diamonds, which it keeps until present.
So what was going on in Russia in the meantime? Well, nothing special. Numerous expeditions found separate samples in the Urals area, but no field with industrial deposits could be located. The game changed dramatically in mid-XX century, when a genius of geology Larisa Popugaeva discovered the first primary diamond deposit of the USSR in Yakutia (Siberia). It was dubbed the "kimberlite pipe". That event gave impulse to industrial-scale mining and cutting of that "king of the jewels" in Russia. New cutting facilities of Moscow and Smolensk earned an excellent reputation due to highest quality of their products and coined the new term for the international dictionary of jewelry brands: "Russian cut" or "Ideal cut". This term stands for the highest standard in diamond cutting that permits to reveal the true beauty of this stone.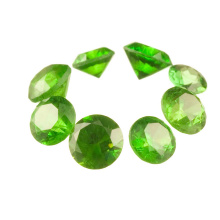 Brilliant-cut demantoids at the Golden Flamingo.
Ideal Cut Demantoids: Sparkling Green
All garnets are beautiful in their own way, but a rare bright green or yellow-green demantoid is definitely a true superstar of that family. The name comes from an old German "demant" spelled as "diamant" in modern German. As you've already guessed it stands for a "diamond". The reason for that name is that the refractive index, and most importantly the dispersion (the ability to break down light into its color components - 'rainbow effect') of a demantoid are higher than those of a diamond. A round diamond cut ("Russian cut" or "Ideal cut") best highlights the unique properties of demantoid and its ability to spark with a full spectrum of a rainbow.
Demantoid was first found in the Urals area, close to Bobrovka River in the third quarter of the XIX century. At first it was taken for a peridot and it did not generate much interest for the first 20 or 30 years. But it created a real stir during the International Exhibition in Paris in 1899. That exhibition was a great success for Russia. Among other things exhibited at the exhibition was the work of the Russian jewelers including Faberge items with a new gem-demantoid. The exhibition gave that mineral a short but turbulent life. It generated a real demantoid rush that culminated in 1913 with 104 kg of mined raw material. A significant part of it was exported. The rush was followed by the decline. By the second decade of the century the reserves were depleted and the mining virtually discontinued.