Rose Gold
A Brief History of Rose Gold Jewelry
Rose Gold: Treasure that Last a Lifetime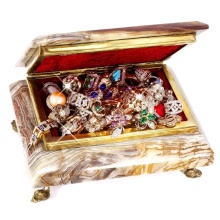 Jewel box full of rose gold jewelry by the Golden Flamingo
Buy Rose Gold Rings, Earrings, Pendants, and Chains
Rose gold jewelry was making a very confident statement in the world jewelry market within the last 10 years. Nowadays rose gold jewelry is successfully conquering the world markets again. А popularity of rose gold spread throughout Asia, Europe and the United States. All jewelry and watch brands of the world are proudly offering their rose gold collections. Rose gold items are firmly holding the position of "must-have" for any true connoisseur of trendy jewelry fashion. Golden Flamingo jewelry brand offers distinctive collections of 585 (14-karat) and 750 (18-karat) rose gold jewelry with white gold or black rhodium detailing. Such combinations of rich hues of rose gold alloys bring out the beauty of all of the materials. The warmth of rose gold is emphasized by white gold or black rhodium detailing when it comes in two-tone or tri-tone options. Such combinations of alloys accentuate the very best features of gemstones and diamonds and help jewelers create items of fantastic harmony and unforgettable beauty. Rose gold jewelry is sure to draw attention in any showcase. But there is something far more important and remarkable than that. Thanks to its own unique blush tone rose gold makes its most important statement by flattering, rejuvenating, and adding a unique spellbinding charm to any woman. Our selection of the rose gold jewelry will definitely melt your hearts and surpass your expectations!
Rose Gold Jewelry in the USA and Canada
The Golden Flamingo is specializing in this particular kind of jewelry since 1996. No other jewelry company in the US and Canada can offer you a better choice of rose gold jewelry than ours. We would like to introduce you to the most popular collections of rose gold jewelry available to our customers in New York, Washington, Philadelphia, Chicago, Denver, Miami, San Francisco, Los Angeles, Toronto, Montreal, Vancouver and hundreds of other cities in the US and Canada, both in our classic brick-and-mortar stores and via online operations. Our buyers are offered special collections of rose gold jewelry with diamonds and colored gems, kid's rose gold earrings, strong and beautiful rose gold chains and bracelets, rose gold engagement rings, rose gold earrings and rings with pearls, and zodiac signs. Pick your purchase from over 2,000 different rose gold rings, earrings, pendants, bracelets, chains and necklaces guaranteed to add an optimistic rosy hue to your everyday routine and to experience the true "La vie en rose" as the French put it. Welcome to the Golden Flamingo name brand jewelry stores - American home of the rose gold jewelry.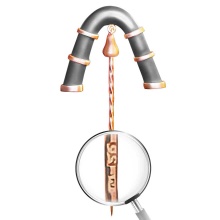 Antique Russian 56 probe rose gold 'Horse Arch' tie pin. Circa 1890
Rose Gold Fineness Jewelry Marks
Our customers are frequently asking us about the history and the types of gold alloys and are especially interested in what it is that gives the rose gold its unmistakable warmth and tenderness. Russian 585 rose gold owes its flattering and gentle rosy shade to its unique composition: Au=58.5%, Ag=7%, Cu=32.852%, Zn=1.648%. Russian 585 rose gold does not contain any cadmium known as a very strong allergen. If an item is made in Russia it has to be marked with a stamp of the Russian government assay office that includes the digits 585 and a profile of the girl in a traditional Russian headdress. For the metric system the number "585" indicates the content of gold per 1000 parts of the alloy, meaning that 1 kg of the alloy contains 585 grams of pure gold (or 58.5% of gold). The same is true for marking the content of the other precious metals in the alloys. According to the karat-based (or "Imperial"/"American") system pure gold is 24 karats. The hallmark 14K means that there are 14 parts of pure gold per 24 parts of the total mass of the alloy (58.3% pure gold content alloy). For that reason 585 rose gold jewelry from Russia and European countries has a lightly higher pure gold content than 14K American jewelry.
In hindsight I would like to mention the most common 56 gold of the Russian Empire so typical for Carl Faberge and other famous Russian jewelers of the turn of the 20th century. It may still be found in Russian and Ukrainian heirloom jewelry. Thus starting May 1, 1798 until 1927 a Russian hallmark system was based on a Russian pound (1 Russian pound=96 zolotniks=409.512 grams. 1 zolotnik=4.266 grams). According to that system 56 stands for 56 zolotniks of pure gold per 96 zolotniks (or per 1 Russian pounds), or 58.3% of pure gold content in the alloy. That's the precise equivalent of pure gold content in the jewelry hallmarked as 14K in the USA, which is slightly less than the content of gold marked 585 according to the European metric system.
Rose Gold Jewelry: Old Trend Revival
It was at the turn of the 19th century that rose gold became the craze in European jewelry for the first time. In Russia rose gold jewelry became very fashionable after the Napoleonic wars as the Russian officers brought home the spoils of war from Europe, such as rose gold earrings, rings and pendants. Since that time rose gold became a very important part of the Russian jewelry culture with firmly established roots, to such a degree that today this warm rose tinted, or to be more precise this rosy-yellow or yellowish-rose hue gold is frequently called the "Russian gold".