DIAMONDS, DIAMONDS



To open the series of articles about the "typical Russian" gems one should honestly admit that although Russia always harbored love and respect for semiprecious and precious stones, nothing was mined there until mid-XVIII century, except for low-quality pearls from the rivers of Novgorod and Arkhangelsk provinces. That church controlled operation was massive and highly predatory in nature, so by the mid-XIX century the unfortunate northern pearl Margaritifera margaritifera was wiped out almost everywhere. That brought to a standstill the Russian tradition to decorate the frames of Orthodox icons and rich women's garments with pearl embroidery.
As late as early XIX century Russia was still importing practically all semiprecious/precius stones, though the country was rich in deposits of an almost complete range of natural gemstones.
Rough and cut diamonds were no exception. This status quo could well continue for another century if not for a pure chance. In the summer of 1829 a 14 yr old serf Pasha Popov from the province of Perm was looking for gold in his pan on the western spur of the Ural Mountains when he found a 5x5 mm transparent stone. The stone was later identified as 0.5 carats diamond and brought freedom to the young prospector.
A similar incident took place again in 1866, but this time it was at the bank of Orange River in South Africa. Over there a lucky shepherd by the name of Erasmus Jacobson found a yellow 21.25 carat diamond. That find made it into history as the "Eureka" diamond. That discovery marked the beginning of the "diamond rush" that eventually raised Africa to the leading positions in mining diamonds, which it keeps until present.
So what was going on in Russia in the meantime? Well, nothing special. Numerous expeditions found separate samples in the Urals area, but no field with industrial deposits could be located.
The game changed dramatically in mid-XX century, when a genius of geology Larisa Popugaeva discovered the first primary diamond deposit of the USSR in Yakutia (Siberia). It was dubbed the "kimberlite pipe".
Rough diamond in kimberlite-volcanic rock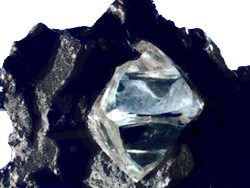 That event gave impulse to industrial-scale mining and cutting of that "king of the jewels" in Russia. New cutting facilities of Moscow, Smolensk, Vinnitsa, and Gomel earned an excellent reputation due to highest quality of their products and coined the new term for the international dictionary of jewelry brands: "Russian cut". This term stands for the highest standard in diamond cutting that permits to reveal the true beauty of this stone.