When preparing the proposal regarding investment in the U.S.A. I, being an investor in the U.S.A. myself, was thinking of the following:
Who is our potential investor? Why will this person want to start a jewelry business in the U.S.A. and do that with us in particular? I would simplistically answer to the fist question as follows:
A. When it comes to the investment in a new store, that is to say-private investment, a typical investor looks most likely as a person of 45-60 years old, who does not make Forbes list, but, at the same time, does not look enviously at the neighbor, who constructs a private house of 1-2 million value. That person could be busy his business activities or state management, devoted to his family, thinks about his kids or, maybe, grandchildren's future, and starts to make plans for the rest of the life. That person still has strength and desire to be active, but, at the same time, is at the age, when the word 'stability' often occurs to him/her. In other words, I mean a person with the qualities, which correspond, approximately, to my today's perception of life.
B. When it comes to direct investment into trade (establishment of several retail outlets in our case), namely-investment activities, it will be, more than likely, venture investment capital fund.
The answer to the second question will be not so short; it requires, at least, a general introduction with our enterprise.
'Golden Flamingo'-is the established business operating in the North America from 1996 under trademarks 'Golden Flaming' and 'Flamant d'or' registered in the U.S.A. and Canada and specializing in sale of jewelry and silverware manufactured by famous jewelry factories in the republics of former U.S.S.R.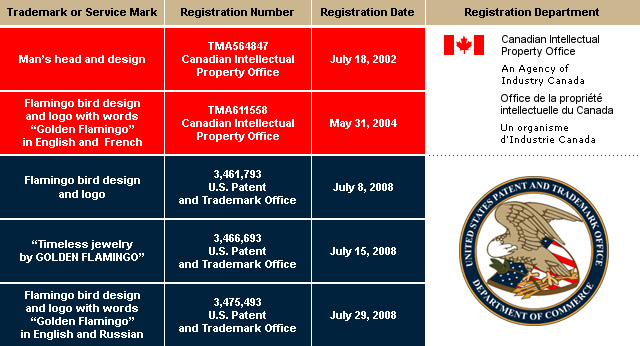 We are members of professional Associations in jewelry industry of both countries (Canada and US). I ran a similar business in Russia before immigration and held minority stakes of several big jewelry plants. Naturally I came to the idea to establish same sort of business in my new homeland. As soon as I got the opportunity to live and work in North America, I opened my own businesses in the U.S.A. and Canada and refocused the marketing of the product I've known well to the Western Market. Hence, for the last 20 years, I've been the following business: running wholesale and retail trade of jewelry and silverware. Of course, I have not been working alone. The effective team of professionals works together with me. Its creativity and enthusiasm based on professionalism and experience and correctly chosen niche for business in the U.S.A. and Canada, which itself turned out to be a true business idea in the North America, enabled the company not only to get through two American economic crises (which we witnessed in the zero years) without noticeable pain, but even to start expanding our business. One can unabashedly say that we are still the only company in the U.S.A. and Canada, which offers high quality jewelry products from the countries – the former republics of the U.S.S.R. in low and medium price spectrum. Due to an ideal "quality - price" correlation and excellent service we earned and keep a high level customers' loyalty to our brand. The most prestigious North American consumer right protection organization, "Better Business Bureau", rated our business as A+. This is undeniable recognitions of our achievements in jewelry trade.
And there is another important thing that I want to notice. We build our relations with State authorities according to a simple and the most effective in the U.S.A. scheme: we do not deceive them, and they do not hinder us. We pay money to the State by way of taxes, and it protects our business property and everyday order. That relationship with the government can be described in short as follows: "Respect without necessary manifestation of mutual love".