Location, location and location…Everybody knows the importance of location for retailers in any country. This is far more crucial for success if you are in jewelry business.

Our experience of investing in our company business in the USA proved that you've got to forget about success if the location is wrong and if you fail to make the right choice of the real estate in the US.
As I was preparing the business plan to expand my company and an investment proposal for potential investors looking for investment opportunities in the USA, I've visited major US cities to determine the areas densely populated by the groups of people that we regard as consumers of our product, and to assess the possibility of finding a suitable real estate in these locations. In fact the concept of growing our business in the US is grounded in the idea of increasing the percentage of our non-Russian speaking clientele, but at the same time maintaining quite significant numbers of Russian-speaking customers. Our non-Russian speaking buyers are a very finely defined group. Neither the buyers of jewelry in a store at the corner of Rodeo Drive and Beverly Hills in Hollywood, nor the buyers in Harlem, Manhattan fit the definition of stable consumers within our range. For this reason the choice of the right location for a future jewelry store is the most difficult task that we have to solve at the first stage of the project and it requires a highly professional approach.
Let's find the answer to a very important question: What's best for the company? Is it best to own a commercial real estate in the US or to rent it? As a general rule the answer is quite obvious.
It's is far more profitable for any business to own and to operate its own commercial real estate in the US. In case your business operates within the facility that belongs to your company you kill two birds with one stone:
You invest in the US real estate and become an investor

You minimize your business expenses in the USA by saving rental expenses, you eliminate the security deposit (you no longer have to give your landlord 2 or 4 month's rent as a deposit hoping to get it back one day (which may be problematic)). But, most importantly, you no longer have to keep up with the landlord's requirements, which may be best described as "whims." It's no big secret that you should do your best to maintain friendly relations with your landlord. Otherwise you may end up a big loser.
There is another important argument in favor of buying commercial real estate in the US: you become eligible and may receive loans. Any investor purchasing a real estate in the US gets access to credit regardless of his residency status in the US. Particulars depend on the type of realty. The only question is interest rate as it may range from 2% to 8%.
Sure, quite frequently it's simply impossible to buy a facility in your target plaza as there is no real estate for sale. And you can't step away from that location as you are likely to get only half of potential customers barely 500 yards away. When it comes to our company, we own commercial real estate where we've found a proper facility to purchase and we rent a facility in the locations there was nothing for sale.
In the first picture: a commercial condo in Toronto, Canada, partially owned by the "Golden Flamingo"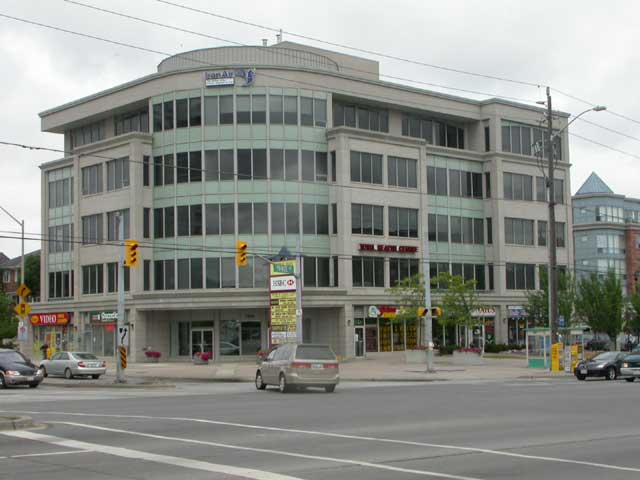 In the following two pictures: real estate in New York, USA where "Golden Flamingo" is renting a facility for a jewelry store.